Congrats to Michael Miller of Okmeos MI, the winner of our 2022 raffle plane.  More info and pics of Michael and his new plane to come.
Enter our 2022 raffle for a chance to win this sporty airplane! A maximum of only 4,000 tickets will be sold.  Raffle ends September 17, 2022. Tickets cost $50ea or 3 for $125.  In addition to the plane, we'll also have separate giveaways for Bose A20 headsets, one in June and one in July.  Multiple chances to win!  To purchase tickets and for the full contest rules click here.
1976 American Aviation Grumman AA1B
This Grumman is a two-seater trainer built by the American Aviation Company.  This aircraft has a 115 HP engine and a 108 Kts cruise speed.  With the bubble canopy and the responsive controls, it feels like a little jet.  Useful load of 450lbs makes this a great $100 hamburger plane.
This plane has had all of the ADs complied and inspected, a Garmin Aera 660 GPS and a brand new paint job which will turn heads on the ramp.  TTAF ~3,700 hrs and TSMO ~600 hrs.  Times are aprox as the airplane is flying.
Last Year's Raffle
Colleen Hofer of Velva, North Dakota won last year's grand prize. The 2021 drawing for our Aeronca Tandem Defender was held September 11th, 2021 at the Claremore Regional Airport (KGCM). 3,123 tickets were sold with over 1,500 different participants from around the United States. Funds raised were used to advance our mission of making flying accessible, affordable, safe and fun for as many aviation enthusiasts as possible. Shown here is a picture of Colleen's new plane moments after it arrived to her home field near Minot, ND.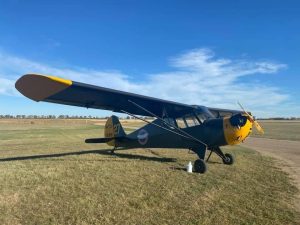 Oklahoma Airmen Flying Club
The Oklahoma Airmen Flying Club is a non-profit general aviation organization that was established in Tulsa, Oklahoma in 1953.  Our goal has always been to make flying accessible, affordable, safe and fun for as many aviation enthusiasts as possible.  Currently we have a Cessna 172, a Cessna Cardinal, (2) Cessna 182's, a Piper Warrior and a Cessna 140.  To learn more about our club, click here.