Enter our 2023 raffle for a chance to win this Backcountry Taildragger!  Raffle ends November 3, 2023.
Tickets cost $50 each, 3 for $135, or 5 for $200.  To purchase tickets and for the full contest rules click here.
2017 Experimental Cub N22NK
This Experimental J3 Cub is inspired by the current "legends" in the cub world.  This Light Sport LSA aircraft is uniquely set up to solo from the front or the back.  At 100Hp it also has the ability to take off short and climb fast.

Currently has less than 100 hours TT

Frame
Factory New Wag Aero Frame
Dakota Cub Wings w/ Metal Spar
Wing root 11 gallon tank for a total of 22 gallons (20 useable)
Grove disk brakes 
8.00 Tires
WAT Nav and Strobe Lights

Engine
O-200 with <100 hrs TSMO
Skytec starter 
Electrical Generator
Legends Cub Exhaust

Instruments
Becker AR6021 Radio
Bendix King KT76A Transponder
EI Tachometer
EI Oil Pressure / Temperature combo
2022 Raffle
Michael Miller of Okmeos MI won the 2022 drawing for our 1976 American Aviation Grumman AA1B that was held September 17th 2022 at the Riverside Airport (KRVS). Shown here is Michael taking his first ride in his new plane before it was ferried to his home airport.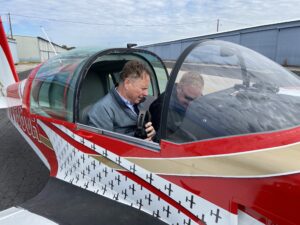 2021 Raffle
Colleen Hofer of Velva, North Dakota won the 2021 drawing for our Aeronca Tandem Defender was held September 11th, 2021 at the Claremore Regional Airport (KGCM).  Shown here is a picture of Colleen's new plane moments after it arrived to her home field near Minot, ND.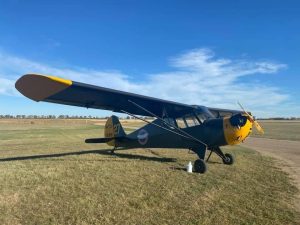 Oklahoma Airmen Flying Club
The Oklahoma Airmen Flying Club is a non-profit general aviation organization that was established in Tulsa, Oklahoma in 1953.  Our goal has always been to make flying accessible, affordable, safe and fun for as many aviation enthusiasts as possible.  Currently we have two Cessna 172's, a Cessna Cardinal, two Cessna 182's, a Piper Warrior and a Cessna 140.  To learn more about our club, click here.